Hi
Expert readers
,Hope there is no need of introduction for myntra ,the leading online shopping website.Now after snapdeal ,they are also offering Rs.100 free for installing app with referral codes to attract customers. Myntra once used to have a website but then they became app only which led to dissatisfaction of many customers but now to attract those customers back, they have launched this program.
What you need to do is
You just need to download myntra app, sign up using a referral code
[
Mkjntq ]
and you will get Rs 100 credits free. Not only this, you can also refer and earn to get credits upto Rs 2000.
How to get Rs 100 credits in Myntra app ?
1 . Download Myntra App from here
Note – Make sure that you download the app only on such device on which you never installed myntra before else the offer won't work. Also your phone must not be rooted and you can't android emulators like Bluestacks.
2 . Now open the app and enter your email address which was never registered with myntra app before.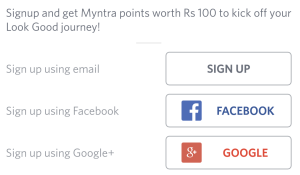 3. Also the mobile number should be new and unregistered with myntra app before
4. Now in referral code column, enter – " Mkjntq"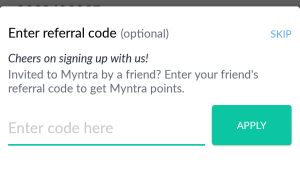 5. If you did everything right, then referral code will be validate and Rs 100 will be credited to myntra wallet which can be used a payment option for your purchases on myntra app
How to refer and earn ?
1 . Click on top left icon >> "Refer & Get Rewards"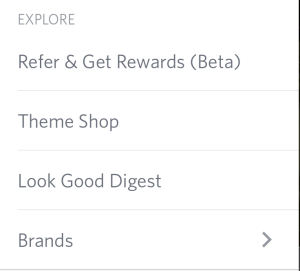 2. Now here you will see your referral code. Copy it and share with your friends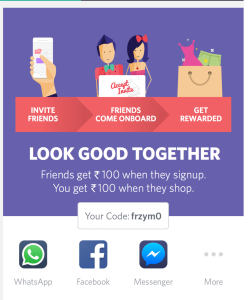 If your friend downloads myntra app and signs up using your referral code, he will get Rs 100 free credits and you will get Rs 100 in your myntra wallet when your friend makes his first purchase. You can earn max of Rs 2000 credits
Enjoy
Some important points
Max you can earn through refer and earn program is Rs 2000
To get Rs 100, you need to be installing myntra app for first time on your phone, use a valid referral code, sign up with unregsitered email id and mobile number and not use bluestacks etc
Your phone should not be rooted or jail broken else you won't receive the rewards
The Referrer will get Rs 100 only within 24 hours of order placement by the referee.
If found using unfair means, myntra can take legal action against the user and also reverse his credits
Get all our updates & special tricks & scripts in

whatsapp chat

free;

click here

or Just send NAME to

8139023873

(via whatsapp)