Hi
Expert readers
,Did you love Yippie Noodles offer of paytm ? Well there is a similar offer now where you need to purchase Knorr Soupy Noddles worth Rs 15 and get Chhota bheem Trolley Bag + Rs 15 paytm cash absolutely free !! Hurry up, start eating delicious noodles and get paid for it 😉


How to get free trolley bag + Rs 15 paytm cash ?
1 . Buy Knorr Soupy Noodles Pack from market with the offer indicated on the back of the pack as shown in the picture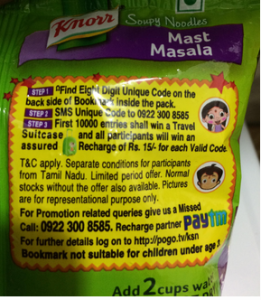 2. Now open the pack and you will find a 8 digit Unique code on the back side of Bookmark inside the pack
3. SMS Unique Code to 09223008585
4. You'll receive a call back in Chhota Bheem's voice and an SMS to confirm your participation in the contest.
5. If you are among first 10000 users to do the 3rd step, then you will get a Chota Bheem Free Trolley Bag. You'll be contacted again by Pogo team if you're one of the winners.
>> Also every participant will get Rs 15 free paytm cash
Enjoy !!
How to see if you have won trolley bag or not ?
The call centre will call you back in case you're one of the winners. You can also check the list of weekly winners at
http://pogo.tv/ksn
> Keep checking the above link on weekly basis !!
How do I claim my prize?
Our call center will call you back to collect your address and send you the prize. You'll receive your prize within 90 days of being contacted by the call center.
How to redeem Paytm cash code?
Step 1 – Enter your cash code, then click on Proceed.
Step 2 – If you do not have an account on Paytm.com, please make one by clicking on Create Account in order to add money to your online wallet
Step 3 –You are done! Now you have Paytm Cash and you can now use it for recharging mobile/ DTH or shopping.
You can use Paytm Cash to recharge your prepaid mobile number, DTH or Data card or pay your mobile, landline, electricity & gas bills. You can also use it to shop from our range of lakhs of items!
Terms and Conditions
The contest opens for participation on the 5th of SEP 2015, and closes on 30th Nov 2015
If you don't find a bookmark inside the pack then give a missed call on 0922 300 8585. You'll receive a call back from the call center to collect your address and send you a replacement within 90 days.
If you have multiple codes, You can SMS all 5 codes to 0922 300 8585, they will be considered valid entries. One mobile number can however only win one prize, and only the first 10,000 correct code entries will be eligible for the Travel Bag.
A single user can use only 1 cash code in total till end of offer.
Get all our updates & special tricks & scripts in

whatsapp chat

free;

click here

or Just send NAME to

8139023873

(via whatsapp)